Increase Situational Awareness, Improve Efficiency, and Maximize Productivity
In a completely new concept in KVM over IP, the award-winning Emerald® DESKVUE receiver allows users to create a personalized workspace where they can simultaneously monitor and interact with up to 16 preferred systems — physical, virtual, and cloud-based — of their choice. DESKVUE connects to distributed physical systems, virtual machines via PCoIP ultra, H.264/265 sources, and Virtual Network Computing (VNC). 4K/5K video on 1 to 4 screens provides a high amount of concurrent information with instant mouse switching between sources, eliminating former hotkey errors.
Ideal for control room environments, the Black Box DESKVUE receiver ensures instant, error-free switching between systems with a simple mouse click and enables free positioning of system windows across four 4K screens, including ultrawide curved monitors, while providing unique source information for each connected system.
Emerald® DESKVUE Features & Benefits
With DESKVUE, users can customize the placement and size of individual screens to maximize work efficiency. This all-in-one-box solution eliminates the need for multiple systems or an expensive equipment integration, saves time, streamlines processes, and improves productivity.

Create Custom Workspaces
Users tailor their workspace by connecting a single keyboard, mouse, USB 3/2 devices, audio, and up to four 4K/5K monitors.

Connects to Physical and Virtual Machines
Connects to physical systems via Emerald transmitters; virtual machines using RDP, PCoIP, PCoIP ultra, H.264/265 sources; and VNC.

Maximizes Efficiency
Users can customize the placement and size of individual screens to maximize work efficiency.

Supports High Resolutions
Handles resolutions up to 5120 x 1440 on DisplayPort, 3840 x 2160 via HDMI, and supports curved monitors.

Compatible with All Emerald® KVM and Boxilla®
Integrates with Emerald Unified KVM and the Boxilla KVM manager for device configuration, monitoring, and authentication.

Comprehensive System
Unlike solutions created out of complex and costly equipment integrations, DESKVUE is one small box that does it all, simply and securely over IP.

Improves Situational Awareness
With flexible, concurrent access to more than a dozen systems, all within view and easy reach, users maintain complete situational awareness to act instantly.

Eliminates Constant Switching Between Systems
Users no longer need to spend 40% to 50% of their time switching between systems and monitoring when tasks are complete or when a system requires interaction.
Typical Application
Emerald DESKVUE integrates perfectly into an Emerald Unified KVM over IP system to deliver remote user access to multiple physical and virtual systems.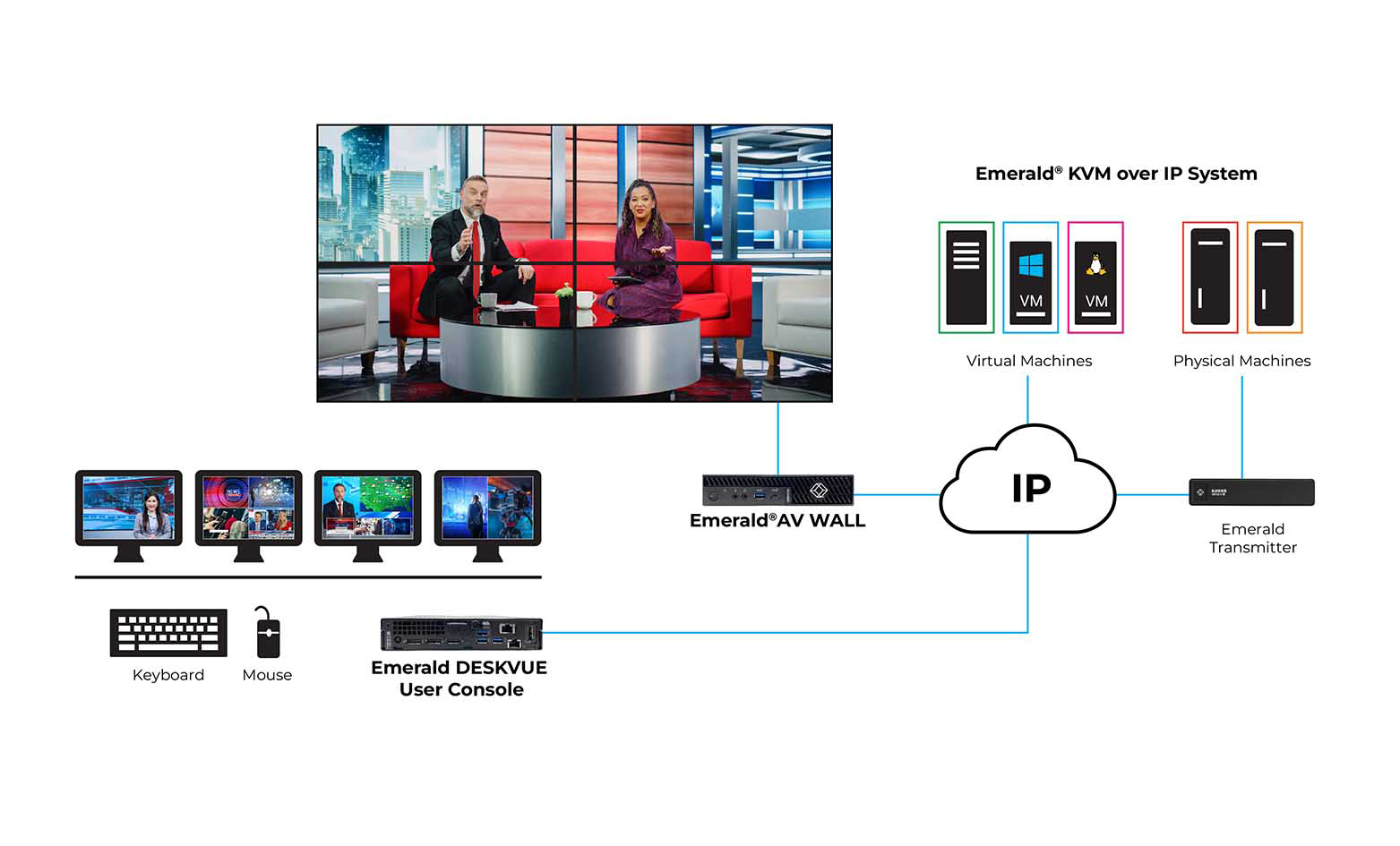 Emerald Product Portfolio
Emerald® DESKVUE and the Evolution of KVM:
A Discussion with Senior Solutions Architect Ed Krach
Before KVM, on-site camera crews filmed events, then manually carried films back to the broadcast studio to process. Now, Broadcasters can beam video from a live event to the broadcast control room and onto your living room using virtualized servers, accessed by IP-based KVM systems.
We're proud to have been able to support the industry with the latest and greatest in KVM. Emerald® DESKVUE is what will propel us into the next 100 years. Learn more about how KVM has evolved in this Connect Innovation Theater discussion with Ed Krach, Senior Solutions Architect hosted at NAB 2023 this year.
Customer Success Stories
Read how scalable, futureproof KVM solutions helped several customers optimize workflows and increase productivity.
Black Box Industries

Military & Defense